Who We Are
Armano Real Estate is a boutique tenant advisory company. We provide custom and fully integrated corporate real estate solutions through a strategic consulting framework.
Our team of leaders and innovators are dedicated to our client-first approach to tenant advisory services.
Joseph is founder, CEO and President of Armano Real Estate.
He manages Armano Real Estate client relationships, transactions and oversees company operations. Joseph's focus is creating value for tenants by lowering occupancy expense. He is a thought leader in strategic consulting, office design and workplace and wellness strategies.
Joseph graduated with an MBA in Finance from the Wharton School of Business and spent his earlier career in financial services at several top firms. Prior to founding Armano Real Estate, he represented tenants globally for JLL and Cushman and Wakefield (formerly DTZ) and has been a New York Top Achiever award winner.
Joseph has completed the Ford New York City Triathlon, Mighty Hamptons Triathlon, New York City Marathon, a one day 143-mile bike ride from Manhattan to Montauk and the Gran Fondo 100-mile bike ride to Bear Mountain. He has raised money for the Swim Across America Long Island Sound Swim and the Hope for New York bike ride.
Joseph is married, lives in Bronxville, New York with his wife Elizabeth and son Joseph and is an active member of the Bronxville Community Church.
Education
MBA Finance, Wharton School of Business
BA Economics, State University of New York at Binghamton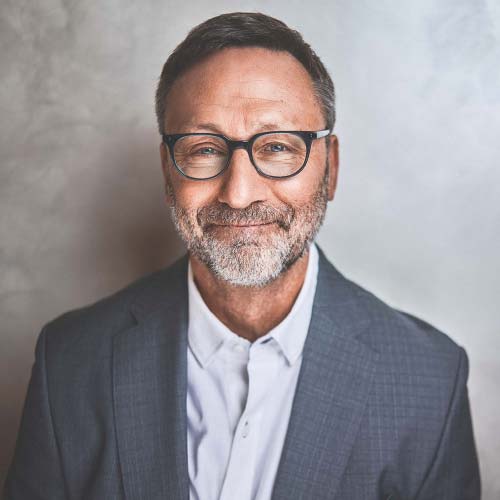 Steven Andersen
Principal
Steven is a Principal and Director of Workplace Design and Project Management Services at Armano Real Estate.
Born into a construction family, Steven has nurtured a love and knowledge of design throughout his life. It is this love that led him to study the art of architecture in Italy, at the American University of Rome, to receive his Bachelors of Architecture degree from the New York Institute of Technology, and ultimately to create an architectural and design firm with his long-time friend bearing his name.
Steven has spent 29 years honing his abilities in the corporate interiors world, with a particular affinity for spaces designed for creative, technology, healthcare and financial services use. Steven harbors a deep respect for all things creative, and nurtures this passion in his work for Armano, not only in sharing his love for music, art, architecture and design with those that he works with, but through his innate ability to encourage a curiosity that pushes the limits of creative thought.
Education
BA, New York Institute of Technology
Where We Are
Wherever your real estate needs may take you, Armano Real Estate is there for you.
We will help you meet your real estate plan and vision leveraging our New York experience and national and global network of experts and one-on-one client services.
New York City and Tri-State Focus
We utilize our local experience and cutting-edge market intelligence to help lower occupancy expense and maximize value creation for your business.